Male masturbator toys (like a Fleshlight) can be fun, but I got to thinking: how else could they be improved?
I created a simple way to make the opening a little snugger, but that is just an improvement to what the toy already is. Could I add something completely new?
The toy is a fun physical sensation, but some good audio would really help round out the experience.
But it would be no good just to play some sex sounds while using it. The audio wouldn't match what you're doing. There would be no feedback, and no sense of connection.
I wanted a way to have the toy (and audio) react to things like how frequent or strong (or light) the touches and thrusts were, and so on.
I realized that a smartphone had all the tools needed to make this happen, so I created an experimental app.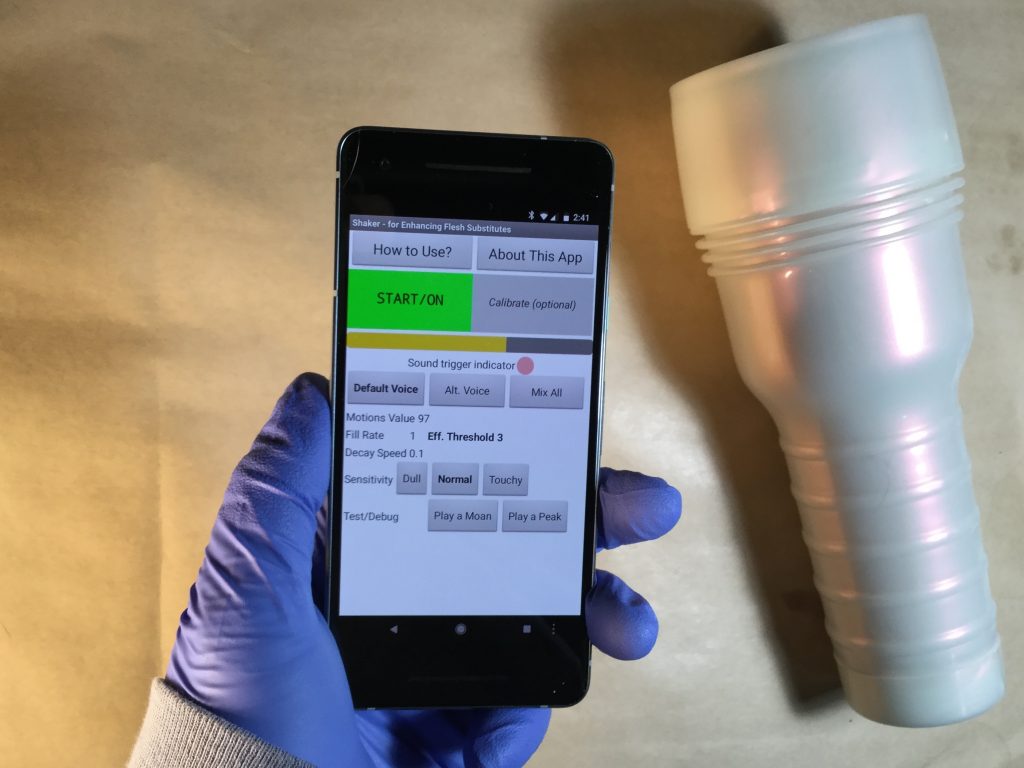 How It Works
The smartphone is attached to the toy's outer case (I put it in a ziplock, then taped it to the sleeve.)
When the smartphone is moved, the phone's sensors measure how much and how quickly it is moving. Because the phone is attached to the toy, that means that how the toy is being used can be measured.
The basic concept is a "bucket filler". Imagine the phone program has an empty bucket. The faster and harder the toy is moved, the faster the "bucket" fills up. When the bucket is full, audio is played: a moan, a "yes YES YES!", and so on. This is repeated as often as needed. There are a few more details, but that's the basic concept.
In short: the Fleshlight (or similar) toy now sighs when it's fingered, moans on insertion, cries in delight during thrusts, and screams in climax when the thrusts get hard and fast.
That's pretty cool, wouldn't you agree?
UPDATE: Check out the video demo!